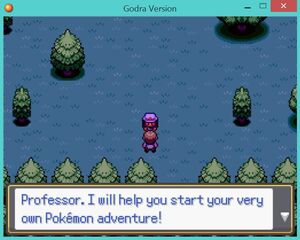 Birch Forest is nestled into the northeastern corner of Birch Town. Your adventure begins here, meeting Dr. Weiss near the exit. Exploring the forest is difficult at first; a tree stands in the way of you and every bit of tall grass in the forest. Perhaps someone knows a way you can get past it? If trainers do find a way through, they'll be welcomed to a sacred meadow where numerous Pokemon roam. Deep in the forest is an old shrine, obstructed by large pine trees. What could it be hiding?
Wild Pokemon
Edit
Possible encounters:
During the day:
Bulbasaur - Lvl 20-25 40%
Chickorita - Lvl 22-24 10%
Volbeat - Lvl 23-25 10%
Illumise - Lv 22-24 10%
Spinda - Lvl 23-25 10%
Chespin - Lvl 22-25 8%
Budew - Lvl 23-25 5%
Emolga - Lvl 22-24 5%
Lickitung - Lvl 22-24 2%
During the night:
Oddish Lvl 20-24 20%
Tangela Lvl 23-25 20%
Fennekin Lvl 22-25 20%
Snivy Lvl 22-24 15%
Phantump Lvl 23-25 15%
Pumpkaboo Lvl 22-25 10%
Old Amber
TM36 (Sludge Bomb)
TM23 (Smackdown)
Ad blocker interference detected!
Wikia is a free-to-use site that makes money from advertising. We have a modified experience for viewers using ad blockers

Wikia is not accessible if you've made further modifications. Remove the custom ad blocker rule(s) and the page will load as expected.