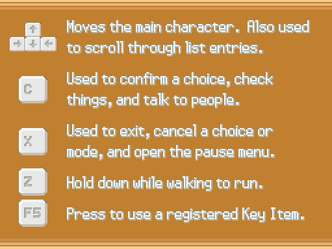 Keyboard
Edit
To move the main character, use the arrow keys.
To confirm a choice, check things, and talk to people press C, space or Enter.
To exit, cancel a choice or mode, and open the pause menu press X or escape (esc).
To run, hold down Z whilst walking.
Press F5 to use a registered key item.
Ad blocker interference detected!
Wikia is a free-to-use site that makes money from advertising. We have a modified experience for viewers using ad blockers

Wikia is not accessible if you've made further modifications. Remove the custom ad blocker rule(s) and the page will load as expected.