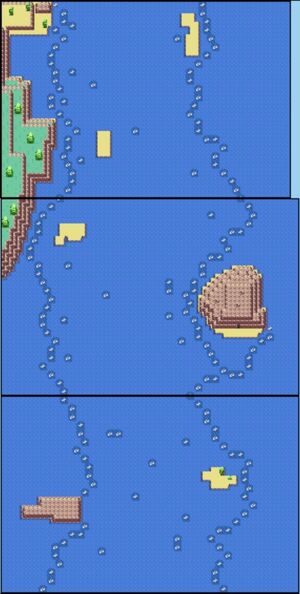 Route 9 will lead you from Alder Town to Rantipole and back.
It's a water route with a couple of trainers as well as a few bystanders who are just enjoying the sea and the beach.
Wild Pokemon
Edit
Surfing:
Horsea Lv20-23 60%
Pelipper Lv20-22 30%
Tentacool Lv20-24 5%
Carvanha Lv20-24 4%
Seel Lv20-23 1%
Fishing (Old Rod):
Fishing (Good Rod):
Magikarp Lv15-17 80%
Horsea Lv16-17 20%
Fishing (Super Rod):
Horsea Lv19-22 95%
Krabby Lv21-22 4%
Shellos Lv21-22 1%
Tuber John - Seel Lv23, Goldeen Lv24, Seaking Lv25
Swimmer Patricia - Psyduck 24, Tentacool 23

Swimmer Peter - Tentacruel 24, Tentacruel 25, Golduck 23

Tuber Amy - Magikarp 25, Gyarados 24

Swimmer Eric - Staryu 23, Staryu 24, Cloyster 23

Swimmer Carrie - Poliwhirl 24, Tentacool 25, Tentacool 23

Tuber Lauren - Poliwhirl 23, Kingler 24

Tuber Kelly - Frillish 26

Swimmer Connor - Croconaw 25, Croconaw 25
TM65 Shadow Claw - on the island right north of Alder Town
Ad blocker interference detected!
Wikia is a free-to-use site that makes money from advertising. We have a modified experience for viewers using ad blockers

Wikia is not accessible if you've made further modifications. Remove the custom ad blocker rule(s) and the page will load as expected.